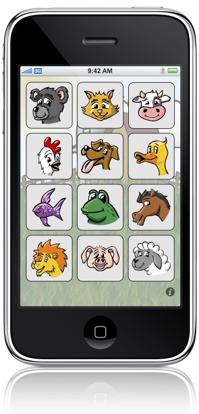 Breakthrough App for my Autistic Son
He couldn't point to objects when you would ask him but he knew and loved all animals. 5 minutes with this app accomplished what we've been trying to teach him with books and flash cards for months!!! Thank you! Thank you! Thank you!
Reviewer on iTunes App Store

I Hear Ewe is a fun game for toddlers that helps them to develop their motor skills and teaches them animal names and sounds at the same time. When your toddler taps a specific animal's icon, they hear the name of the animal announced and a recording of the animal's natural sound. This free game is intended for 1-2 year old toddlers, or adults who love the sounds of animals! Compatible with the iPhone, iPod Touch and iPad.